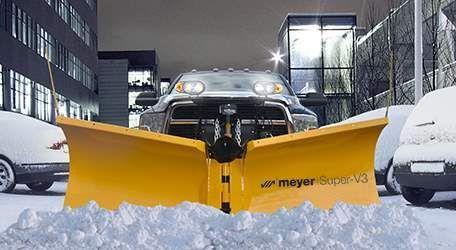 $10,695
+ taxes & licensing
---
DESCRIPTION
8.5' SV3 Painted V-Blade $10695.00
8.5' SV3 Stainless V-Blade $11695.00
9.5' SV3 Painted V-Blade $11,095.00
9.5' SV3 Stainless V-Blade $11,695.00
A commercial-grade plow that offers total configuration command with independently controlled wings and brighter night plowing with standard LED lights. It also features industry-leading ground clearance.
The Meyer Super-V3 brings next generation innovation to contractor-grade Vplows. Made for ¾-ton and larger trucks, it's engineered with features designed to move more snow, faster and with more control. With its pistol grip controller and independently controlled wings, you can choose from a V, scoop or straight blade configuration with push-button ease. The Super-V3 gives you safer nighttime plowing with its standard Nite Saber® LED lights and features industry-leading ground clearance for better stacking and less bottoming out. Made of carbon steel, hook it up, and change the way you plow forever.
The all-new Super-V3 features industry-leading ground clearance that lets you stack snow higher with less chance of bottoming out. Offering unmatched versatility, this plow comes standard with LED lights and Meyer's exclusive one-button pistol grip controller and dual-acting locking cylinders giving you ultimate control, forward and back. The Super-V3 is here to take your capability to the next level.
Meyer is dedicated to bringing you products you know you can rely on. That's why Super-V3 plows are engineered and built with our Reliable Over-time Construction (ROC) system. ROC combines ongoing manufacturing improvements with state-of-the-art technology and stringent quality control procedures to deliver a more rugged and reliable product you and your business can count on.