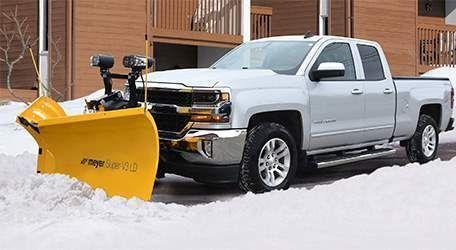 $10,195
+ taxes & licensing
---
DESCRIPTION
7.5' SV3 LD V-Blade
This bottom-trip commercial-grade plow, featuring LED lights and industry-leading ground clearance, is perfect for contractors with ½-ton trucks who need the flexibility of a V-plow.
Why let the big guys have all the fun? We know your 1/2-ton pickup is capable of the toughest jobs, which is why we created the Meyer Super-V3 Light Duty (LD). With a plow spanning 7'6" in length, the Super-V3 LD has trip-edge moldboards for more efficient and shock-absorbent plowing. Plus it features industry-leading ground clearance, self-diagnostics and Hands-Free Plowing (HFP). One-half ton trucks don't seem light at all with a Meyer Super-V3 LD plow attached.
When you want the convenience of a "V" blade, scoop blade or straight blade, you want a Meyer Super-V plow. Our exclusive one-button controller lets you put the plow in just about any configuration. The dual-acting cylinders lock the blade so you can back drag snow in any blade position.
In the snowplowing business, downtime is not an option. That's why the Super-V3 LD is built using Reliable Over-time Construction (ROC)…the detailed things we do to make our plows more rugged and reliable. ROC is the result of manufacturing improvements and state-of-the-art technology combined with stringent quality control procedures.
When it's cold, wet and dark, struggling with a stubborn snow plow is the last thing you want to do. That's why Super-V3 LD has our EZ-Mount Plus mounting system conveniently attaches or detaches in minutes and leaves the vehicle with an off-the-assembly-line appearance when not attached. Unlike competitors that have up to three plugs, the EZ-Mount Plus system comes with two plugs to connect/disconnect. Meyer's free-standing jack stand allows you to adjust the plow's height on uneven or shifting surfaces for easy on/off. Plus the Super-V3 LD offers industry-leading ground clearance so there's less chance of bottoming-out.