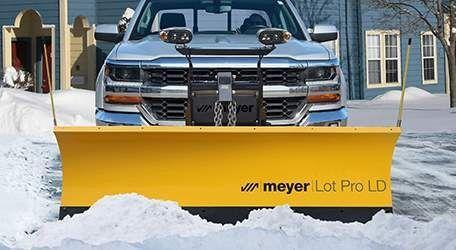 $7,395
+ taxes & licensing
---
DESCRIPTION
This commercial-grade plow is perfect for contractors with 1/2-ton trucks who need to plow large parking lots and streets.
Designed for residential contractors, Lot Pro LD™ is a rugged and easy-to-use steel snow plow ideal for tight residential areas or long driveways. It features industry-leading ground clearance, self-diagnostics and Hands-Free Plowing. Made for 1/2-ton pickup trucks with snow plow prep packages, contractors will appreciate increased maneuverability in snowy conditions and not having to compromise on quality construction.
The Lot Pro LD is strong in the right places. It's designed for ½-ton pickup trucks but is made with the same heavy-duty rams and hydraulic system as our full-sized snow plows and are assembled using Meyer's reliable over-time construction process.
In the snow plowing business, downtime is not an option. That's why the Meyer Lot Pro LD is built using Reliable Over-time Construction (ROC)…the detailed things we do to make our plows more rugged and reliable. ROC is the result of manufacturing improvements and state-of-the-art technology combined with stringent quality control procedures.
When it's cold, wet and dark out, struggling with a stubborn snow plow is the last thing you want to do. That's why Meyer's mounting system conveniently attaches or detaches in well under a minute and leaves the vehicle with an off-the-assembly-line appearance when not attached. Plus it offers industry-leading ground clearance so there's less chance of bottoming-out. Meyer's free-standing jack stand allows you to adjust the plow's height on uneven our shifting surfaces for easy on/off.